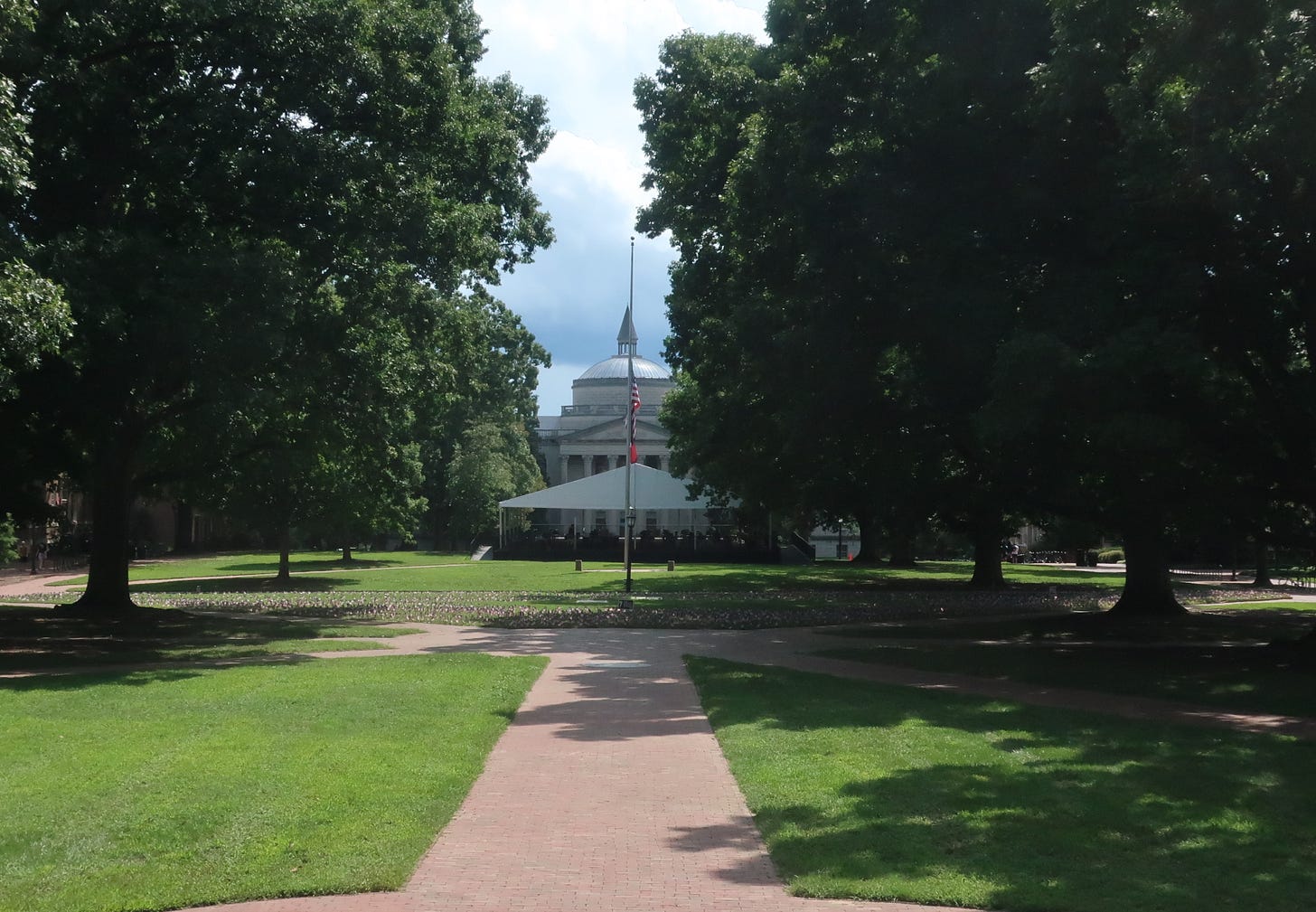 I remember the day quite clearly even now, almost 20 years later. I don't think that is unusual nor is the fact that I don't like thinking about it, remembering that day, because once the pictures of what I saw that day come back, once the memories flow, my own little piece of the collective trauma floats to the surface once again.
I wrote the lede on the story for the Chapel Hill News that day. It was maybe one of the truest things I ever put in the first sentence of a story, for me, for the town and the university I covered.
It read: "There was a struggle here Tuesday to make sense of it all."
To me, those words are an incantation. Whenever I see that line again, I am transported willingly or not back to that moment when I sat down at my desk after coming back from campus and read through the various feeds from other reporters about what they'd seen and heard and of my conversation with various elected officials, including a particularly unforgettable one with Rep. David Price who describes the smoke rising from the Pentagon as we talked.
Everyone is who they are at moments like that. Maybe that's the most edifying thing about a tragedy. It cuts through all the lines we draw around ourselves and around others.
I remember how the morning started; seeing the bulletin of the first plane and walking over to the N&O side of the newsroom to turn on their TV in time to see plane number come into view. By then, Grant, the main photographer for both newsrooms, was standing next to me. It was a deadline day for our triweekly and I remember an editor wondering what we were doing watching TV. A few moments later, everyone knew what we'd just seen. I grabbed a pad and pen and Grant got his gear. There was a brief staff meeting and we took off for campus.
I talked to some students near The Pit on my way to the Student Union then walked into the media area near the entry. It was packed with people watching the burning buildings. As I scanned their faces, I caught sight through the crowd of the first tower collapsing. It was followed by a sound like nothing I've heard before. In one second, a thousand people pulling in their breath, a second later, a thousand individual reactions of grief and shock and horror.
I walked outside to gather myself and students started coming out of the building, crying, shaking, dialing and redialing. I talked to a few people who were able to talk at that moment and by then there was a stream of tearful students coming out of the Union, holding each other, leaning on each other.
Grant and I headed to the South Building. We were about to go in when the Dean of Students, also in tears, came up the steps from Polk Place locked arm in arm with the Provost. I started to ask a question as gently as I could, the dean tried to answer, she started with the words, "My parents" and I could see her lips trembling as she tried to finish the thought.
We all walked in together. The leadership of the university was assembling for an emergency meeting and while the press would normally be excluded, there was an acknowledgement that this was history going down. To his credit Chancellor Moeser recognized that and let Grant and I stay in the room to witness. They talked about students and faculty with family in New York who would need support, about assembling grief counseling and getting messages out to the university community. Everyone was shook up, but I think having that sense of purpose helped them work through it.
I was on the steps to the South Building again the next day as thousands of students came together to honor the lives lost, including the six alumni from Carolina. There was a pile of stones near the center of Polk Place and everyone was invited to circle through and take a stone from the pile and place it at the base of the flagpole. Some of the stones were very smooth and for some reason that has always stuck with me. Afterward, there were songs and words and tears under the fine oaks of North Campus. James Moeser did a lot as chancellor and a lot of change and growth happened under his watch, but his greatest day was that sunny, bright Wednesday when we all stood there for a while in silence and held each other by the hand and went into an uncertain future together.
We are here again, on this awful anniversary, in the midst of another tragedy, facing another uncertain future. We are losing family and friends and hero after hero in a difficult deadly struggle against a disease and against our own failings to do what must be done to slow it and eventually stop it.
We are split apart from ourselves. Every day, the best we have rise to continue their quest for an answer to this pandemic and every night there's no shortage of those willing to dance with death. Fear, disappointment and mistrust reigns here. No sterile set of metrics can measure that or cure it.
I didn't want to write about this day this year or maybe even ever again. Living it the first time was enough. But I am searching for signs of that moment in the light, that day of unity and resolve when we will hold the smooth stones in our hands, make peace with what has happened and go into the uncertain future as we should. Together.